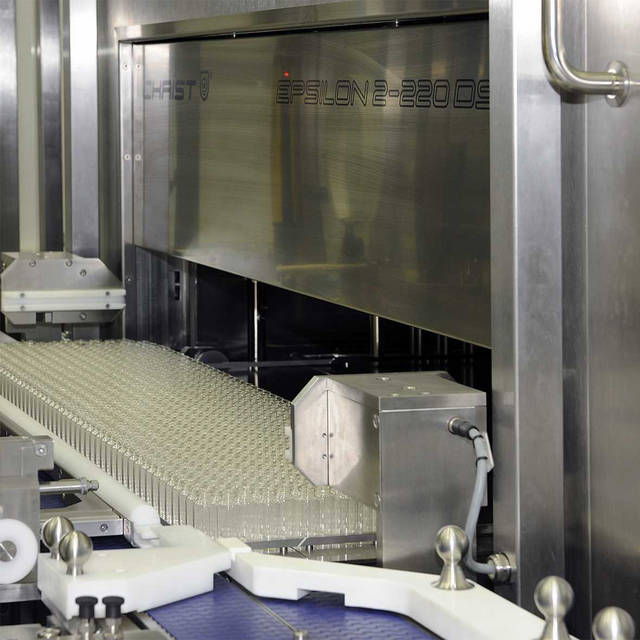 Production systems for aseptic production of active ingredients (double-chamber systems)

Custom system projects
Long before your system dries the first batch of your valuable product, our qualified project management, engineering and service team provides the necessary advice and support for everything from system design, seamless quality control during production, on-time installation, commissioning and qualification, and ensuring the reproducible and trouble-free long-term operation of your freeze drying system. If technical problems arise, you can count on fast response from our Service team 24/7, 365 days a year.
Structural or component positioning modifications for adaptation to space constraints are possible, as well as alternative arrangements for vacuum, cooling and control. We offer a broad selection of solutions at various levels for secure freeze dryer loading and unloading solutions, which is naturally a significant issue for users. They range from configurations with attached isolators to semi-automatic loading carts and fully automatic loading and unloading systems. The latter systems can be implemented conventionally using conveyor belts or transfer carts, or innovatively using cleanroom robots for unparalleled precision and reliability. Mature solutions are assured by our 'best partner' approach, which means working with leading specialists in their fields. Christ normally assumes the role of lead supplier to minimise the number of contact persons.
All systems and equipment fulfil the most stringent requirements with regard to the materials used and functional safety, and they are extensible and upgradable for future applications. Advanced automation concepts simplify operation for users and ensure fully reproducible drying processes. Our experts are active in major associations and working groups, including ISPE and the German PAT group, and are therefore familiar with stringent regulatory requirements, particularly with regard to the pharmaceutical and biotech industries.
We work with users to devise system and loading concepts for an extremely wide range of tasks and process requirements and implement them in manufacturable designs.
The double-chamber design developed by Christ places the ice condenser directly below the drying chamber. There is a wide choice of sizes, with ice condenser capacities from 12 kg to more than 500 kg. The shelf area ranges from 1 m² (specifically for process optimisation) to over 40 m², depending on the system type.
Our Epsilon DS freeze drying systems feature:
Pressure chamber > 2.5 bar for steam sterilisation (SIP)
Hydraulic/pneumatic door locking system
Stainless steel door (optional slot door)
Automatic filter test (FIT)
Siemens S7 control system with LPCplus
Optional cleaning in place (CIP) capability
Compact design with minimum space requirements
Typical applications
Pharmaceutical industry (e.g. aseptic production of vaccines, cytostatic agents)
Biopharmaceutical industry